ROKAE Robotics has recently introduced the NB12 and NB25 series industrial robots, which have significantly enhanced reliability and performance compared to similar products.
The NB12 series consists of five products, three of which are six-axis robots with payloads ranging from 10kg to 16kg and a reach of 1102mm-1602mm. These robots are well-suited for various tasks such as loading and unloading, fast sorting, gluing, sanding, polishing, deburring, assembling, and testing. Additionally, ROKAE Robotics has developed three-axis and four-axis robots specifically designed for plane handling scenarios in the PCB industry, with a maximum working radius of 1,000 meters.
On the other hand, the NB25 series comprises five models with payloads ranging from 12kg to 35kg and a reach of 1617mm-2110mm. Compared to the previous generation model, the NB25 series offers an average 25% increase in payload capacity, making it suitable for applications such as loading and unloading, deburring, inspection, photovoltaic nesting, sorting, and assembling.
In practical applications, the NB12 and NB25 series of industrial robots have demonstrated their exceptional ability to address challenges faced by various industries.
In the photovoltaic industry, the need for high speed and large reach often results in rack shaking, which compromises accuracy. However, ROKAE NB12 and NB25 series of robots are specifically designed with high inertia and rigidity to achieve faster movement speed while ensuring reliable long-term operation. This effectively solves the problem. Additionally, for processes that require larger payload robots, such as photovoltaic layout, cell basket handling, cell insertion, workpiece loading and unloading, and component palletizing, the NB80 and NB220 series industrial robots are available to meet these requirements.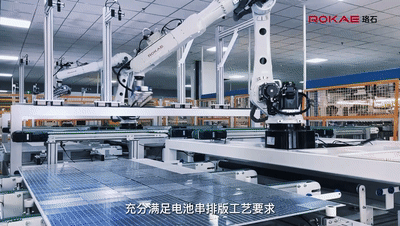 In the PCB industry, the heavy materials and large inertia characteristics often overload robots, leading to jitter and motor burnout. Moreover, some processing procedures involve acid and alkali chemical gases, which ordinary industrial robots struggle to adapt to. However, ROKAE NB12 and NB25 series industrial robots are specifically designed to address these challenges. They have a high inertia design and the body and control cabinet are designed with high protection levels, enabling them to better handle the inner and outer layers of PCB boards in various processes.
The NB12 and NB25 series industrial robots from ROKAE Robotics are also widely used in automotive parts, 3C electronics, and general industries to meet various needs such as sorting, loading and unloading, sanding, and gluing. These robots have gained recognition in practical applications by customers.
As an enterprise with innovation at its core, ROKAE has mastered various underlying technologies, from algorithms to flexible force control, to develop a high-performance control system for robots. They have also independently researched and developed highly integrated modular joints and other core components, which serve as the foundation for their 3-220kg industrial + cobot full product line. With their innovative, efficient, and competitive smart manufacturing solutions, ROKAE Robotics aims to meet the diverse needs of customers, reduce costs and improve efficiency for enterprises, and bring intellectual innovation to the industry.